Frankfort Team
Josh Feigl, PT, OCS, CSCS
Professional: As the Clinical Director and Owner of JointPro Physical Therapy, Josh Feigl has treated patients in the Lincoln-Way area for the last 15 years.
Josh earned his Master's Degree in Physical Therapy from the University of Evansville in 1999. He went on to earn the distinction of Orthopedic Clinical Specialist from the American Board of Physical Therapy Specialties in 2002 and was re-certified in 2012.
Josh joins the ranks of only four percent of physical therapists nationwide who have earned the Orthopedic Specialist Certification. This sets him apart in his ability to evaluate and treat all musculoskeletal conditions from pediatric to geriatric patients. Continuing education in the most up to date treatment approaches allows Josh to provide scientifically proven methods of care that allow for shorter recovery time to get patients back to doing what they enjoy.
Josh has received advanced training in the areas of manual therapy, sports medicine, lower extremity biomechanics, rehabilitation of the throwing athlete, total joint rehabilitation, post-operative spinal and extremity rehabilitation and progressive therapeutic exercise.
When he is not working, Josh is an avid trail and road runner and marathoner. He enjoys competing in many local and regional races throughout the year. He was a two-time High School All-American and NCAA Division 1 athlete who grew up in Orland Park and graduated from Carl Sandburg High School. His love of sports and athletics drives him in his pursuit to work with athletes of all ages.
Josh is a member of the American Physical Therapy Association and the National Strength and Conditioning Association.
Keegan Albright, PT, DPT
Professional: Keegan is a new Chicagoland resident and Physical Therapist who earned his Doctorate in Physical Therapy from Maryville University of Saint Louis in December of 2019.
Keegan is a veteran of the United States Marine Corps and served in both Operation Iraqi Freedom and Operation Enduring Freedom as an Infantry Rifleman and Improvised Explosives Detection Canine handler. It was during his time in the Marine Corps that Physical Therapy appeared on his radar as he was treated by a Physical Therapist for a knee injury. He became interested due to the unique approach used by his Physical Therapist to treat and manage his knee pain.
Keegan is interested in pursuing a career specializing in Orthopedic and Sports injuries and has a special interest in Canine Rehabilitation as well. He is a member of the American Physical Therapy Association.
"I chose to become a PT because I can continue to serve my country and fellow Americans by helping people to achieve their hightest functional potential and enable them to participate in whatever they choose to do without pain and dysfunction."
Personal: I am originally from Quincy, Illinois. I love music of all kinds (espeically music with plenty of guitar!), weight training, cycling, cooking (BBQ most of all - bring on the smoke!), watching football/hockey, and spending time with my wife and our dog Cash. My retired USMC K9 "Sergeant Snap" played a pivotal role in my life - I even have him tattooed on my leg! I am always eager to talk about all of our four-legged furry friends!
Angela Bury, PTA
Professional: Associates in Applied Science from Kankakee Community College 2013 Advisory Board member for the PTA program at Kankakee Community College Certified in LSVT BIG Therapy.
"I chose to become a PTA because I know that this career is ever changing and requires lifelong learning to provide my patients with the best outcomes. Helping patients reach their goals and get back to their favorite activities is what I enjoy most about my job."
Personal: I love spending time with my husband, my two girls, and two dogs! I enjoy reading, boating, traveling, baking, and staying active.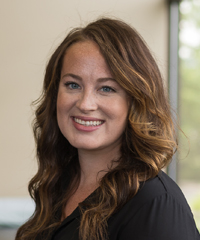 Colleen Steeves, PTA
Professional: Associates in Applied Science from Kankakee Community College Bachelors degrees in Interdisciplinary studies from Governors State University. Certified in LSVT BIG.
"I chose to become a PTA because I knew that I would be able to make a difference, no matter how small, in someone's life. I knew that this career would be very rewarding for me, and I was right. The thing I love the most is the connections I am able to make with people in all walks of life, and the privilege to provide them with excellent care."
Personal: On my off days I try my best to stay active. I enjoy running and biking outdoors. I would like to think of myself as a pretty adventurous person. I also enjoy a good book and an even better cup of coffee. I love doing all those things with my family, friends, and dog.
Joe Tascone, Rehabilitation Technician
Professional: Bachelors of Science – Exercise Science & Fitness from University of Illinois at Chicago Eagle Scout & Order of the Arrow – Boy Scouts of America.
"I became a rehab tech to better prepare myself to become a PTA or PT, but most importantly I was excited to work and rehabilitate the vast amount of patients we work with every day."
Personal: I enjoy anything outdoors, whether it is hiking, fishing, camping, white water rafting, mountain biking, kayaking, or rock climbing. I am a workout enthusiast and strongly believe in staying active and appreciating the little things in life. I have the best family, friends, coworkers and dog a man could ever ask for!
Angie Trost, Office Coordinator
Professional: Angie has an Associate of Arts Degree, and a solid history of both executive administration and customer care. She is skilled at ensuring the Frankfort clinic runs smoothly while always keeping a focus on the needs of the patients.
"I knew I wanted a job that would somehow make a difference in people's life. Even though I am not providing PT care, I hope that when a patient walks through the door they feel welcome and cared for. Often times I get to be the first and last face they see (coming and going from the clinic). It's such a blessing to be able to share a smile and help the patients in any way I can. I love being able to say that we are all about patient care and meaning every word of it. I like a busy working environment that provides a challenge and yet provides an authentic team working environment."
Personal: In my free time I love working out, looking up and making new healthy recipes, reading, traveling, and spending time with family and friends.
New Lenox Team
Michael Ruiz, PT, DPT
Professional: Michael serves as the Clinical Manager in New Lenox. Mike graduated with honors from the University of Illinois at Urbana-Champaign and received his DPT from University of Illinois at Chicago in 2006. He has spent almost 15 years in private outpatient orthopedic practice working with a variety of age groups and diagnoses. Mike especially enjoys working with runners and golfers, but likes to work with athletes, weekend warriors, or anyone from 9 to 99+ regardless of fitness level. Mike has advanced training in Barnes Myofascial Release, and working with runners and golfers. He is also certified in Dry Needling, Astym (soft tissue technique using specialized tools), and SFMA level 1 (movement assessment). He believes in a whole patient approach to physical therapy that incorporates pain theory, breathing, mental, and physical well being.
Personal: I live in Tinley Park with my lovely wife and 2 active daughters. In my free time, I enjoy running, playing golf, and trivia. I am an avid movie buff, and love to talk movies, music, and TV. I am proud to serve my community in a variety of ways and am an active member in the Tinley Park-Frankfort Rotary Club. I am also an Evans Scholar alumnus and I enjoy giving back to the program that gave me so much.
Amanda Mitchell, PTA
Professional: Associates in Applied Science from Kankakee Community College 2016.
"I chose PT because I wanted to be a part of helping others get back to living their fullest life and reaching their goals. I grew up seeing what a huge difference PT made in my special-needs sister's life and I want to help others in need. I love working at JointPro because we are allowed more one-on-one time to create a more personalized treatment plan for our patients- specific to their individual needs."
Personal: In my time off work, I enjoy spending time with my daughter and husband. I enjoy working out at the gym and running outdoors. I love coffee and enjoy baking and cooking.
Taylor Stortz, Rehabilitation Technician
Professional: Bachelor of Science in Kinesiology from University of Illinois at Urbana-Champaign.
"I chose to become a rehabilitation technician to better prepare myself for PT school. I am so thankful to work at a clinic with such an incredible team that is teaching me so much!"
Personal: I love spending time with my two dogs, family, and friends. I enjoy working out, reading, traveling and being outdoors. I'm a loyal Dallas Cowboys fan and a very frequent patron at Dunkin.
Angie Hedman, Office Coordinator
Professional: Angie has a Bachelor of Science degree in Engineering Technology from Northern Illinois University. She has a strong history of both administrative work and customer service. Angie is a dedicated professional focused on caring for the patients at the New Lenox clinic.
"I feel blessed to be part of such a caring and knowledgeable team. The environment created by our staff allows patients to feel comfortable while treating them with respect and professionalism."
Personal: I love spending as much time as I can with my husband and our two grown sons. Our Friday night game nights are the highlight of my week. I also enjoy cooking and baking as well as keeping active.